I'm a Novice/Beginner, is that an issue?
No, not at all.   We'd have a consultation over the phone to see what problems you're facing and assuming it's a good fit, we'd go from there.
What ages do you teach?
Will's specialty is with teaching young adults and older.  There are plenty of private teachers that teach young budding vocalists and I'd be happy to refer you.
WVS recommends these voice studios for younger students:
–The School of Rock (Seattle)
–Modern Music Studios (West Seattle)
-Ted Brown Music. (Tacoma)
Other instruments:
-Guitar: Keith Wright Guitaristmaker (Seattle)
-Drum: Donn Bennet Drum Studios (Bellevue)
What days do you teach?
Will is a full-time active musician so the schedule can vary particularly on weekends but we'll work to find you a consistent schedule.  Currently, WVS has availability Monday-Thursday and Sunday. Please contact Will for specific times.
Where do you teach?
Will teaches out of a private studio in Bellevue, WA.
I'd like to buy lessons as a gift, is that something you do?
Yes, WVS offer gift cards.  Particularly a great gift for the holidays!
Do you offer lessons over Skype?
This option is offered for Will's established voice students via Skype or webcam.  If you have not worked with Will, then you would need to first establish a bit of rapport before that is an option.
What forms of payment do you accept?
Cash, Card, Paypal, Venmo, Zelle, or Cashapp.
What makes your lessons different from other teachers?
You're learning from a seasoned musician who has experienced all of the same pains that you have.  Will is the lead singer for an international touring rock act and he is passionate about music and supporting a music scene.  He creates lessons that are designed to help you coach yourself, exploit weaknesses, and push you past your comfort zone.  There is a large aspect of practical teaching that is focused around the performance aspect of singing, writing, and recording.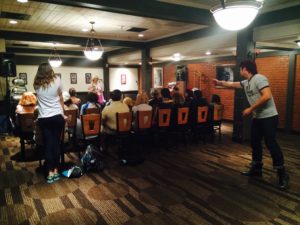 Are any of your students looking for bands/groups to audition for?
They sure are!   We're happy to connect the two of you together.  Just fill out the form below.
I'm a student can I see what auditions are available?
Yes, click here and enter the password from your instructor.
I submitted my band/group to find a singer, can I see what the status is?
Afraid not.  In an effort to avoid getting spammed or your information being phished, the list is password protected and only visible to my students. However,  you should've seen a screen pop up saying "You Did it!" If you've submitted your group, rest assured that it's on a page where students can view and they will be in touch if they feel they're a good fit for your project.  If at any time you'd like us to remove your group, please contact us and we'll be happy to do so.