I'm a Novice/Beginner, is that an issue?
No, not at all.   We'd have a consultation over the phone to see what problems you're facing and assuming it's a good fit, we'd go from there.
Do You Teach Non-Professional Singers?
WVS has been proud to teach hobbyists and employees of companies such as Boeing, Amazon, Google, Facebook, Starbucks, Sandusky, Overlake Hospital,  Alaskan Airlines, Delta Airlines, Bartell's, DSHS, and Emerald City Trapeze.   Bartenders, government employees, personal trainers, and a number of law firms have come through the doors of WVS.  If music is a passion of yours,  then we want to help you find your voice.
What ages do you teach?
Will's specialty is with teaching young adults and older.  Taking on students is on a case-by-case basis.  Here at WVS, we invest in you as much as you invest in us.  There are many factors that can determine whether or not this would be a good teacher & student relationship based on our phone consultation.   That being said, if someone is of a younger age (e.g. 16 or younger) and you're trying to get them interested in music, WVS recommends these voice studios for budding students:
– The School of Rock (Seattle/Bellevue)
– Modern Music Studios (West Seattle)
– Ted Brown Music. (Tacoma)
Other instruments:
– Guitar: Keith Wright Guitaristmaker (Seattle)
– Drum: Donn Bennet Drum Studios (Bellevue)
What days do you teach?
Will is a full-time active musician so the schedule can vary particularly on weekends but we'll work to find you a consistent schedule.  Currently, WVS has availability Monday-Thursday and Sunday. Please contact Will for specific times.
Where do you teach?
Will teaches out of a private studio in Seattle, WA.
What's the difference between a Music Mentor and a Music Teacher?
Will is an experienced and trusted adviser.  Though he can teach you music, he will tailor his lessons towards your goals as a musician overall rather than a forced curriculum.
I'd like to buy lessons as a gift, is that something you do?
Yes, WVS offers gift cards.  Particularly a great gift for the holidays and they are transferrable.  Another option is you can purchase the Online training program: Uncharted Territory
Do you offer lessons over Webcam?
This option is offered for Will's established voice students via Zoom.  If you have not worked with Will, then you would need to first establish a bit of rapport before that is an option.
What forms of payment do you accept?
Cash, Card, Paypal, Venmo, Zelle, or Cashapp.
What makes your lessons different from other teachers?
Think of Will as more of a music mentor than a teacher.  You're learning from a seasoned musician who has experienced all of the same pains that you have.  Will is the lead singer for an international touring rock act and he is passionate about music and supporting a music scene.  He creates lessons that are designed to help you coach yourself, exploits weaknesses, pushes you past your comfort zone, and focus on how you would like to have music in your life/career.  Because Will is a music mentor, you'll have lessons tailored towards other facets of music than just singing such as stage performance, writing, instruments, recording, and overall career direction.  As a bonus, you will also have access to the WVS Student Forum which notifies you of audition opportunities as well as access to exercises, blogs & tips, and open mic opportunities.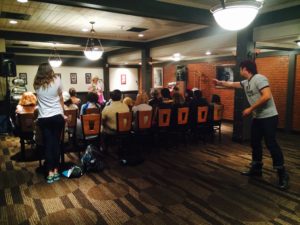 I get nervous when I'm singing and I'm looking to build up my confidence and get over stage fright.  Can you help?
You've come to the right place!  Confidence comes over time.  By pulling back the curtain we can focus on the things that make you nervous and attack them.   A sure-fire way to get over stage fright is by being on a stage more often — go to Open Mics and Karaoke!  It's something you can do with a group of friends and you're meeting like-minded people passionate about music.  You never know who you might bump into there and most people there are on the same skill level.  For current students of WVS, here's a list of Open Mics in the PNW   
Are any of your students looking for bands/groups to audition for?
They sure are!   We're happy to connect the two of you together.  Just fill out the form below.
I'm a student can I see what auditions are available?
Yes, click here and enter the password from your instructor.
I submitted my band/group to find a singer, can I see what the status is?
Afraid not.  In an effort to avoid getting spammed or your information being phished, the list is password protected and only visible to my students. However,  you should've seen a screen pop up saying "You Did it!" If you've submitted your group, rest assured that it's on a page where students can view and they will be in touch if they feel they're a good fit for your project.  If at any time you'd like us to remove your group, please contact us and we'll be happy to do so.
Can I submit a review of my experience at WVS?
Sure can!  You can either fill out this form to have your review added to the website (like this) or you can go to our Facebook Page or Google Business Page.